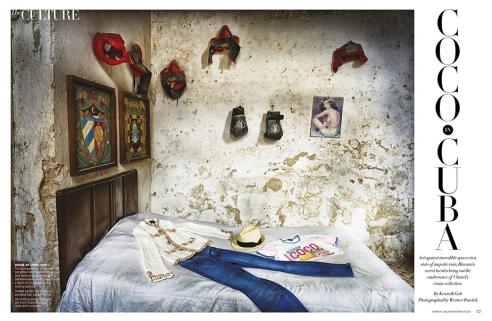 Coco in Cuba - Series for Harper's BAZAAR Singapore
Text by Kenneth Goh

If serendipity could strike at the most opportune time, it had to be the night before I boarded my flight to
Havana, Cuba, for Chanel's magical cruise show. I chanced upon an invite to the Lumas Gallery in
Singapore, showcasing the works of renowned travel and art photographer, Werner Pawlok. Titled simply
as "Viva Cuba!", the exhibition showcased his incredibly detailed architectural and interior shots of homes
and spaces in Havana.

Pawlok first visited Cuba in 2004 and, employing his unique painterly approach in photography, began a
long-term series of works which he compiled in his book, Cuba - expired. Returning to Cuba twice over
the past 11 years, his work was picked up by international art agent Lumas and added to the portfolio of
artists they represent.
I was immediately drawn to his photographs and excited by the prospect of what Havana offered
architecturally. Speaking to Pawlok in Singapore right before I boarded my flight, I asked if he would be
interested in collaborating on a still-life shoot for Harper's BAZAAR in Havana, featuring the collection I
was about to witness. Knowing how Karl Lagerfeld employs strong local references in his experiential shows
in far-flung destinations, I instinctively knew this would be a perfect marriage—juxtaposing high fashion
against the most beautiful crumbling buildings. Having previously worked in fashion, Pawlok has created
campaigns for Nicole Farhi and editorials for international fashion magazines in the past. He was interested
to get back into editorial work, but this time around, taken from his own unique point of view.
Employing his photography technique of multiple exposures and multilayer post-editing, the saturated and
detail-rich pictures you see here are all shot with natural light.
On 3rd May, when I saw what Lagerfeld brought out in sultry, sexy Havana: Chic monochromatic tuxedo
ensembles, cropped trousers, Panama hats and two-tone metallic brogues, I knew I could edit the best of
the collection for a very different still-life shoot. Cropped tweed jackets, satin cummerbunds, white socks
and loafers all looked like they had come straight off the backs of dancers in the surrounding salsa clubs.
The military presence was also strong on the runway, with olive green cotton romper suits and touches of
camouflage tones scattered throughout. The highlights were the soft pastel tones on delicious separates
and the most desired It item:
Coco Cuba t-shirts. Worn under the House's signature multi-hued tweed pastel suits, the tees spoke of
youth and a nostalgic nod to the halcyon '50s days of summer. The vintage car prints, reflective of what
runs on the busy streets of Havana today, in lollipop and sorbet shades were as refreshing as ice cream
on a hot balmy evening.
This cool, pop culture-inspired fashion, lovingly realised by Lagerfeld, was perfect for a shoot in dilapidated
spaces where time stood still. In these pages, you will witness the splendour of high Parisian fashion set
against the faded glory of Havana. If fashion can be said to break down borders, this has to be it.

Kenneth Goh
Editor in Chief
Harper's BAZAAR Singapore
Bildübersicht Coco in Cuba for Harper's BAZAAR von Werner Pawlok