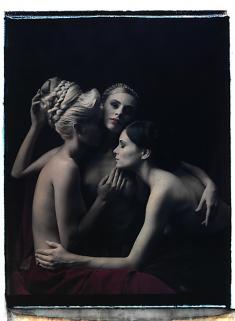 Photography Paintings
With his photography paintings Werner Pawlok decidedly emphasizes his intention to foil the old-fashioned way of thinking in categories, which separates photography from painting. The camera direction of the shots aims at a gestural and mimic vocabulary which are evocative of the classical portray painting of european art history, but without imitating or even quoting it. It is rather a sort of cultural background-noise which accompanies these works without a concrete reference being intended or comprehensible. For Pawlok, it is a question of the sublime heritage of this painting, which can be tracked until present times. He is familiar with these elements of bodily expression from the world of fashion, to say under the conditions of modern mass-communication. Here, he seeks to recover the intimacy of the origin which got lost on the way to pose. Rich light and colour shades that seem to arise from a baroque colour-palette, the almost tangible sensuality of skin, velvet sheets, fur and heavy drapery- all this can not hide the fact that the image searches for an intimate dialogue with the viewer. This might be the reason why the works seem to defy mere description. Being technically perfect, they signalise a certain vulnerability and fragility owing to the fugacity of the moment when meaningful sensitivity reveals it's language to the viewer.

Photography Paintings
Mit seinen photography paintings unterstreicht Werner Pawlok wohl am entschiedensten seine Absicht, jenes alte Spartendenken zu durchkreuzen, das Fotografie und Malerei getrennten Sphären zuweist. Die Bildregie der Aufnahmen zielt auf ein gestisches und mimisches Vokabular, das an die klassische Porträtmalerei der europäischen Kunstgeschichte erinnert, ohne dieses jedoch nachzuahmen oder gar zu zitieren. Eher eine Art kulturelles Hintergrundrauschen scheint diese Arbeiten zu begleiten, ohne dass ein konkreter Bezug beabsichtigt oder fassbar würde. Es geht Pawlok um die sublime Erbschaft dieser Malerei, die sich habituell bis in die Gegenwart verfolgen lässt. Vertraut ist Pawlok mit solchen Bausteinen körpersprachlichen Ausdrucks aus der Welt der Mode, das heißt unter den Bedingungen moderner Massenkommunikation. Hier jedoch sucht er die Intimität des Ursprungs zurückzugewinnen, die auf dem Weg zur Pose verloren gegangen ist. Üppige Licht- und Farbnuancen, die einer barocken Farbpalette zu entspringen scheinen, dazu die beinahe greifbare Sinnlichkeit der Haut, von samtenen Laken, von Pelz und schweren Stoffen, dies alles kann nicht darüber hinwegtäuschen, dass das Bild den intimen Dialog zum Betrachter sucht. Das mag mit ein Grund dafür sein, dass sich die Arbeiten der bloßen Beschreibung zu entziehen scheinen. Bei aller technischen Perfektion signalisieren sie eine Verletzlichkeit, eine Fragilität, die der Vergänglichkeit des Augenblicks geschuldet ist, in dem die bedeutsame Sinnlichkeit dem Betrachter ihre Sprache verrät.
Bildübersicht Photography Paintings von Werner Pawlok