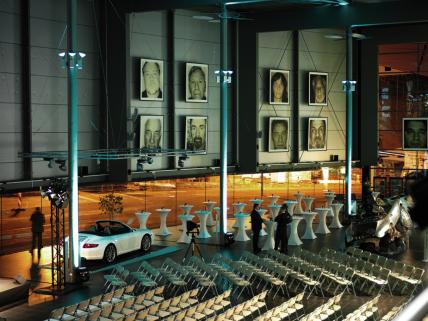 Porsche event
views - faces of literature.The writer, Leon de Winter, guests at Zuffenhausen

Stuttgart. On Thursday November 29, 2007, the Stuttgart Porsche Center extends an invitation to an unusual artistic experience in Zuffenhausen. As part of a private view with the title "views – faces of literature", the artist and photographer Werner Pawlok is exhibiting large-format photographic portraits of internationally known contemporary authors for the first time. Along with Martin Walser, Salman Rushdie, T.C. Boyle and Ian McEwan, Pawlok has also caught the Dutch writer, Leon de Winter, who will be present in person that evening, on camera. In conversation with the presenter Annette Brüggemann, de Winter discusses important stages in his life, and reads individual excerpts from his books.

The exhibiting photographer, Pawlok, born in Stuttgart in 1953, set up South Germany's first photo gallery in 1980. Over the course of his professional life, he has portrayed a large number of actors, fashion designers and artists – for example, John Malkovich, Dennis Hopper and Juliette Binoche. Now he has started on the faces of contemporary writers. His camera is positioned a mere 20 centimeters away from the subject. The result is haunting black and white portraits which can now be seen in the exhibition.
Bildübersicht Porsche displays portraits of famous authors von Werner Pawlok